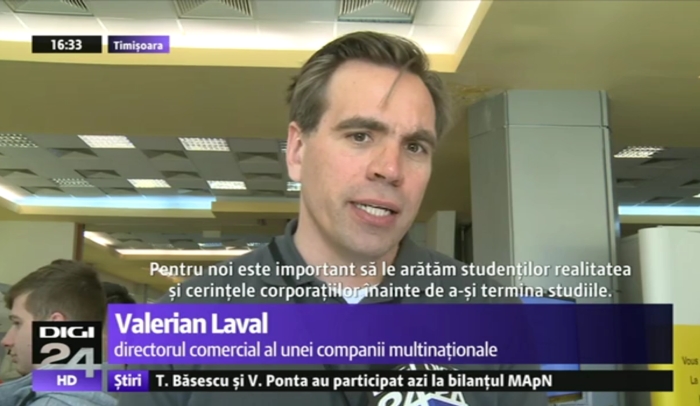 Engineers are in high demand in the west, where multinational companies need skilled people. One of the most important automotive companies has already announced that it wants to hire 1,000 professionals in Romania, half of them just get out of university. Young people from the west know that a good career is still built on the faculty benches and take advantage of every opportunity to join a leading company. These days in Timisoara occurs the largest fair of job offers and internships for students and graduates of Polytechnic University.
Of the 1.000 jobs offered by a German manufacturer of auto accessories, half are for young graduates. They can choose to work at one of the subsidiaries of Timisoara, Iasi, Brasov, Arad, Satu Mare, or Sibiu. Over 1.500 Romanian were hired last year by the German company, which ranks Romania on the second place of employment top, after China. The German firm's jobs are only a small part of the offer presented at the job fair in Timisoara, where 54 other companies are seeking specialists.
Claudiu is in the first year at faculty, but is already thinking about a career in computer science and is willing to sacrifice his summer holidays. "I search for something in the programming or hardware. I am prepared to stay in the summer in Timisoara and do an internship", said Claudiu Iova. Next to him, thousands of students and graduates of the Polytechnic University of Timisoara visited the stands with offers.
"I am looking for a job focusing on design. I want to prepare myself for the future", said one of the students. "We are third-year students in electronics, we are interested in everything on internships or practice and seem quite interesting", said another student. "The employer does not check them as they are checked by the teacher in the classroom. The employer wants motivation, also personality", said Felicia Stângu, personal development trainer.
"For us, it is important to show to the students the reality and corporate requirements before completing their education. Thus, they have the opportunity to reflect on what they learn", added Valerian Laval, Commercial Director of a multinational company.
"The positions that we have are on the technology, technology engineers, design engineers working on software design", said Alexandra Alexandrescu, firm representative.
Over 6.000 students are expected to cross the threshold of the fair. Last year, nearly half of those who have submitted resumes were called to interviews.
Pleese click here to read the original article as permanent screenshot