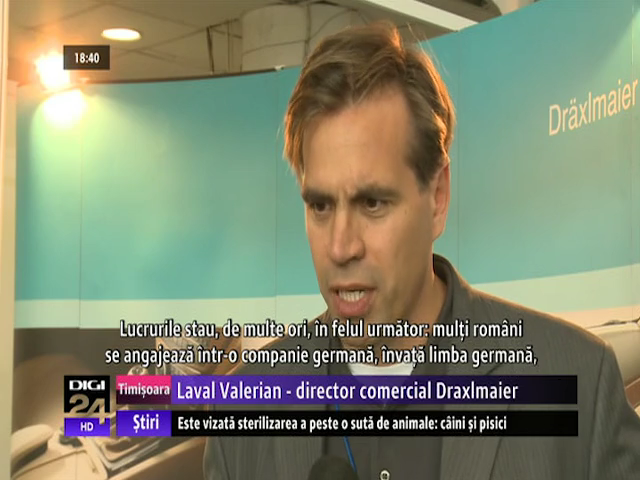 "We want … engineers!" says in a loud voice, automotive and IT companies, struggling for specialists in the west. The battle for finding the best employees is increasingly tough, especially since entered into it with powerful weapons, the foreigners. Representatives of Audi, for example, crossed the border in order to recruit, for the factory in Hungary, more than 50 employees from Banat. The essential condition to employment: knowledge of German.
"It would be great if you learn German" is the first advice received by Gabriel Stefanescu from foreign employers. The graduate of Polytechnic stopped at the Audi stand because aspires of a job in quality assurance in the neighboring country. "By now I have had jobs only abroad, in the country I have not tried, and I want Hungary", he says.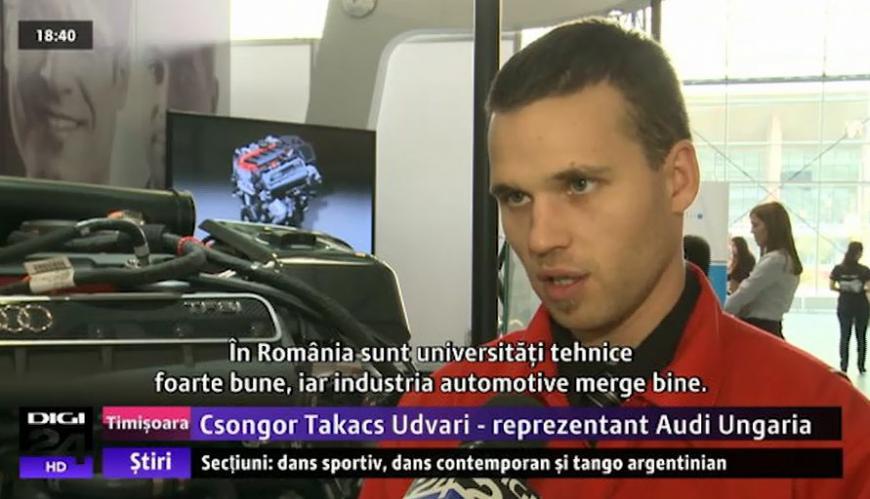 And Hungary search in Timisoara specialists in Mechanical, Electronic or Logistics. The great automaker, with 10.000 employees in neighboring recruit both engineers and students for internships. It tries to draw them with a strong brand, higher salaries than those in Romania and the latest technology. "Technical universities in Romania are very good and the automotive industry is going well. Also, many people here speak Hungarian very well", says Csongor Takacs Udvari, Audi Hungaria representative."They ask German native language, I don't know it, it's probably a must currently, we will try in the future and hope to be ok", said another candidate.
All the automotive companies, based in the West, have great need of engineers. Over 500 IT experts and engineers jobs were put on the line, at the job fair, which takes place this weekend in Timişoara. Paul Ionescu, a Hella engineer informs us: "We are a growing company, we need fresh forces in IT, programming, finance, quality".
And Valerian Laval, Commercial Director at Draxlmaier adds: "Things are often, as follows: many Romanian engage in a German company, learn German, learn how such a company works, and then they go to Germany. I am always glad for them because it is a great career opportunity".
"Especially in IT is difficult to find enough people with experience, now the IT demand is higher than the supply, there are new companies coming to the market and want candidates with 2-3 years of experience", specify Silvia Mancos, consultant in human resources.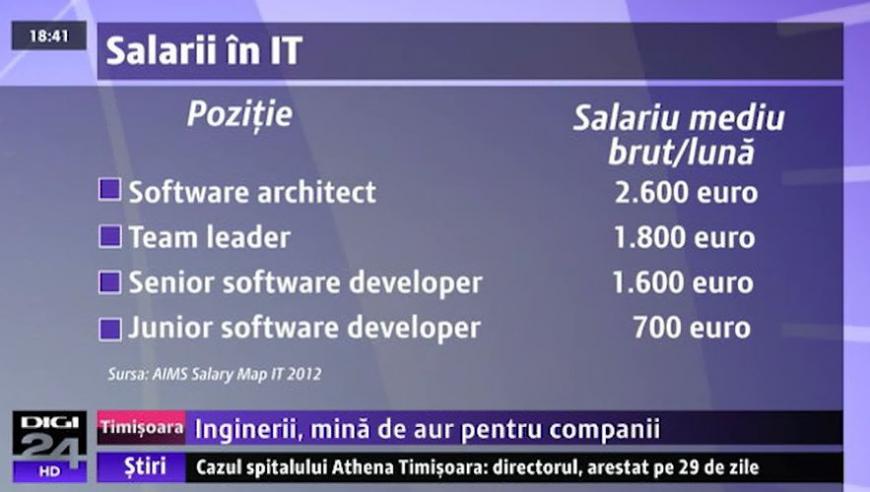 According to a survey, the average monthly salary, of a software architect in Romania, is 2.600 euro gross per month, while the leader of a team reaches 1.800 euro gross per month. A senior software developer earns on average 1.600 euro gross per month, and a junior software developer 700 euro gross per month. To these salaries are added a number of benefits.
Reporter: Manuela Strinu
Operator: Cosmin Pirlogea
Web editor: Calin Tenche
Pleese click here to read the original article as permanent screenshot