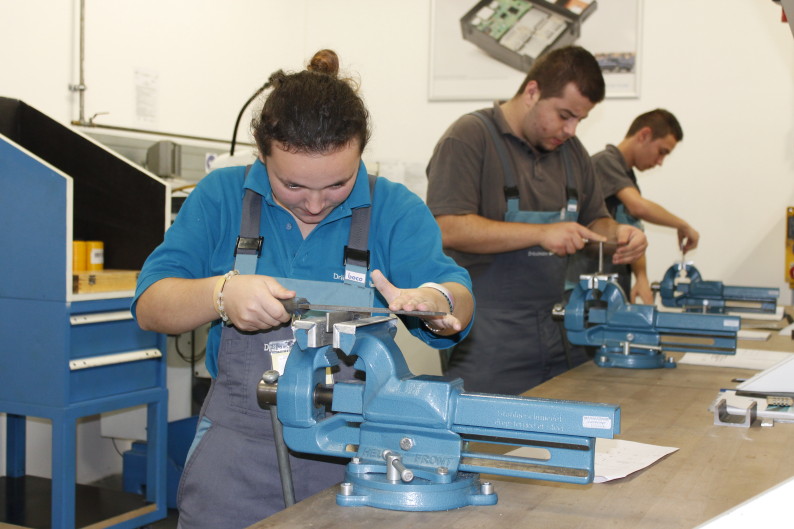 Dräxlmaier and technological High School "Constantin Bursan" had inaugurated the new school year in a workshop designated for pupils, which was organized in the Dräxlmaier plant.
2014-2015 school year brings in Draxlmaier's workshop 2 classes from Hunedoara that will learn crafts in a new place, using equipment and tools brought from Germany. This partnership was selected by the Education Ministry, as one of 5 pilot projects in the country, for implementing a dual education system.
The initiative for a professional school in Hunedoara was started by Draxlmaier company in September 2013 with a group of 14 pupils. They attended practical courses a workshop organized in the school. Starting with 2014-2015, 29 pupils – both 14 from second year and 15 rookies, will be doing internships in a workshop designed in Draxlmaier Hunedoara plant. Two foremen, employees in Draxlmaier, will train the pupils, and the specialization is electromechanics.
"We found ourselves in a special moment because today we've inaugurated in our plant, one of the modern workshop places for pupils from Hunedoara. In the last years, Draxlmaier Group has known a massive development in Romania, thus the need for qualified personnel increased. This is the main reason why our company is involved in organizing a curriculum, pupil selection and ensuring workshops for study and practice for three years of study. We focus on practical training precisely for answering to a major problem that youngsters are facing after graduation: the lack of professional qualification. After graduation, pupils with scholarships will have employment priority in our company", declared Valerian Laval, legal representative Draxlmaier Automotive Hunedoara.
Collaboration between Draxlmaier and Technological High School "Constantin Bursan" started last year by equipping a new classroom for pupils and by the sponsorship of workshop equipment and handbooks.
"We are honored by our collaboration with Draxlmaier Hunedoara. This company acknowledged the necessity of professional schools and was actively involved in developing and equipping workshop spaces for our pupils. 29 pupils from our professional school will attend practical courses right at Draxlmaier plant. These children will have the chance to learn in a place that perfectly stimulates the environment and to be trained by qualified personnel. It is a tremendous opportunity for these pupils", declared Daniel Ardelean, legal representative "Constantin Bursan" high school.
Following the successful model of professional schools, the German group established strong collaborations with high schools from other cities where Dräxlmaier conducts its activity, such as Timisoara, Brasov, and Satu Mare. Press release Hunedoara Municipality
Pleese click here to read the original article as permanent screenshot