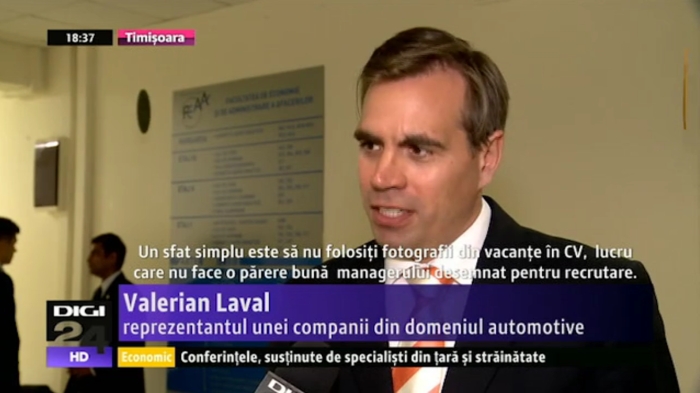 Unique educational program in Romania, for students of the Faculty of Economics and Business Administration, Timisoara. The higher education unit signed cooperation agreements with 30 multinational companies, through which students will be prepared for the labor market, even during the years of study. Training with representatives from the business will help young people to more easily find a job after graduation.
A study conducted on a sample of 700 students prompted representatives of the Faculty of Economics and Business Administration from Timisoara to contact companies to fit their needs students. An online survey showed that 98.33% of students believe that a practical program would be helpful, especially the lack of experience is the first obstacle encountered by young people in employment. As the new academic year, students may enroll in this new program, which in addition to lectures and seminars, they will participate in various workshops and training supported by companies. Here, participants will learn how to elaborate a resume, make internships in well-renowned companies, and will learn the right attitude when they go looking for a job.
"The most important feature is that the student says Yes, I want to improve my skills. Yeah, I want to go forward. Both. If you have this desire is more than plenty of good," says Rajesh Move, Project Manager for Life Edu. To prepare the students were contacted over 30 companies in areas such as audit, financial advisory and automotive. By internships and training programs, business representatives will show students what to do and what to avoid when applying for a job.
"A simple tip is to not use vacation photos in the CV; it will not do a good impression to the manager designate for recruitment. And a second tip would be to be prepared for the interview. Applying to a multinational company might that part of the interview to be conducted in another language, in English, French or German, depending on the skills listed, so you should be prepared from this point of view also, "said Valerian Laval representative of an automotive company.
The program will take place during the three years of study and extracurricular activities can take the place of experience that employers require even to a young person that has just started out. "Every student enrolled in the non-formal extracurricular program will receive at the end of his studies a progress book in which is specified all the activities in which they were involved, all projects and results. It can serve as a basis for companies to evaluate candidates for a particular job, "says Ovidiu Megan Faculăţii dean of Economics and Business Administration Timisoara.
Depending on the involvement of companies, the "Edu for Life" could provide places for approximately 2,500 students from the Faculty of Economics and Business Administration, regardless of the academic year in which they are located. Registration for the extracurricular program held until October 30, following the 15 November, students can begin the training period.
Plese click here to read the original article as permanent screenshot