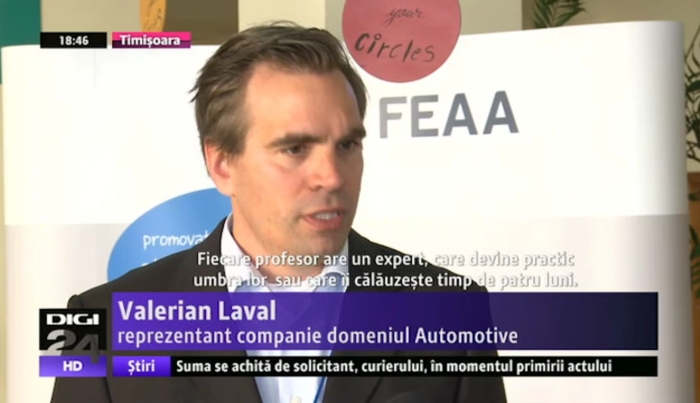 Students from Timisoara are ready for multinational companies. Starting with July, graduates can enroll in a Master Program, one which is included in the Top 100 World Wide Best Masters of E-Business. Specifically, students are trained in Business Information System, one of the best paid in the top companies. The program promises three weeks of practice in the automotive company, and… employment opportunities.
After graduation, almost 50 students have the opportunity to specialize in E-business, ie learn how to develop business in the virtual environment. Horvath Zsombor is attracted to this master's program because it is a special chance to practice at a possible employer. The 22-year-old has studied Economic Computing, and he sees himself as a business software developer: "I like to develop applications and to adapt to today's technology. It is a field that is constantly growing. It requires professional computer programmers in this sector for business".
Teachers, who are willing to teach disciplines like Business Intelligence and Programming Process Modeling, confirm that this domain is a future one. Basically, students can become experts in management information systems or accountancy, two of the well-paid jobs in the field.
"We are confronted all over with computer technology that we have to use and which we have to manage for our own business. There are top payments similar to those in IT", declared Mihaela Muntean, a professor in the Faculty of Economics and Business Administration.
Being the first year in which students can enroll in such specialization, teachers are, in turn, already trained at top companies. Six teachers began courses in April this year and will do almost 1500 hours of training.
"Every teacher has a professional expert who becomes practically their shadow or guides them for four months, teachers become familiar with the system and they are getting help to prepare teaching materials so that our professionals can share with them practical experience," said Valerian Laval – representative of a company in the automotive sector.
This Master is especially attractive to students, due to the fact that an international agency that analyzes the level of higher education placed it among the best in the area, along with others of its kind throughout Europe.
"The Master program is a result of a partnership with a German multinational company, which provided internships for most students in the company, and it received a very good ranking and its placed in the top 100", says Ovidiu Megan, Dean of the Faculty of Economics and Business Administration.
The Master program of the Faculty of Economics and Business Administration offers 13 budgeted places and almost 40 paid. Students will be admitted based on their previous grades, after enrollments starting in July.
Reporter: Raluca Popa
operator: MihaOperator: Mihai Pop
Web Editor: Calin Tench
Pleese click here to read the original article as permanent screenshot